By Jack Stokes
Hailing from Tipperary, Crow Black Chicken has created and cultured a sound that combines the fundamentals of folk, blues, and Southern Rock. The band's sophomore album, "Rumble Shake" builds upon their debut "Electric Soup", with powerful bass accompanied by Christy O'Hanlon's stylistic guitar and haunting vocals.
The Trio has developed a style reminiscent of some of Red Hot Chili Peppers more recent music with "Two-Seven" containing bass riffs that are strikingly similar to the opening stanzas of "She's Only 18". Beyond that, Crow Black Chicken holds true to their reputation by making the rest of the song uniquely theirs – fully demonstrating O'Hanlon's vocal and guitar skills.
O'Hanlon and bassist Stephen McGrath perfectly interweave guitar and bass lines that highlight either the vocals alone, or the guitar and vocal arrangement. Nowhere can this be more flawlessly demonstrated than in "Priest Hunter", where the opening salvo highlights a spritely guitar solo – but when O'Hanlon starts singing, the guitar fades into the bass line and only reemerges on the held notes and chorus.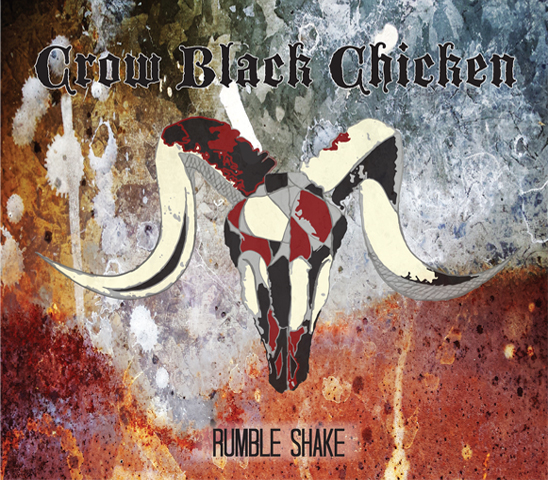 The album's title track "Rumble Shake" captures their distinctive sound – expertly linking guitar solos with electronic influence and lyrics that leave little to the imagination.
"I can see you looking fast, with the boy down by the silver lake,

He was Adam in the garden, you were playing with his snake,

This is not like this to you, do you know just what to do,

Baby you know you'll go far, Baby you're a blinding star."
The highlight of the album – "Rumble Shake" – has a beat that not only leaves you wanting more, but can be played over and over again without getting old. With a more upbeat and quick rhythm, it's an excellent contrast to the bulk of the album, which maintains a slow, blues rhythm with soulful lyrics.
Speaking of soulful lyrics, "Jessie Mae" showcases the band's ability to sing the blues with a passion evocative of the greats.
"Oh Jessie Mae, (Oh Jessie Mae)

As god as my witness, (As God as my Witness)

I'm obliged to you, (I'm much obliged to you)

And the Mississippi blues, (and the Mississippi blues)

Oh Jessie Mae, Oh Jessie Mae

Every time you sing, Black Angels Dance,

Oh Jessie Mae, Oh Jessie Mae

Every time you sing, Black Angels Dance"
Just when you think you have their style pinned down, they "shake" it up at the end.  "Sit With Satan" starts out as Southern Blues, quickly scales up to full out rock & roll, then transitions back down to finish off the album with their signature blues sound.
Rumble and Shake has a sound so truly cohesive that you'll never forget who you're listening to.  Crow Black Chicken has been likened to many bands, but the bottom line is their music is truly unique.  While roots and elements can be compared to others, they stand alone in their ability to interweave blues and rock into their own greasy, no bullshit blues rock sound.
Jack Stokes is the kind of music aficionado that insists on organizing his LPs by genre. His wife says he needs professional help – you know, the "men in white coats" kind. He writes on behalf of Zu Audio, manufacturers of high-quality hi-fi speakers.